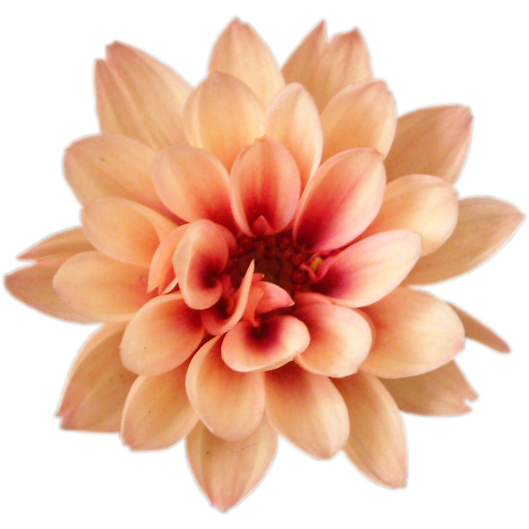 SHISHU Atelier : Old Delhi
At M.HIRAMATSU, all the embroidery products are hand made by the artisans in India.
As embroidery is one of the oldest traditional crafts available in India, types of stitches you can find within the country is endless—each full of history, each full of uniqueness.
At M.HIRAMATSU, we carefully select and work alongside each embroidery studios closely, so we can depict the unique embroidery available in their region and showcase these crafts to the rest of the world.
Through our "SHISHU Atelier" journal series, we would like to introduce you to the embroidery studios we work with, together with the beautiful artwork created by these master artisans.
M.HIRAMATSUの刺繍製品は、すべてインドの職人による手作業で制作されています。インドの伝統工芸である手刺繍は地方によって様々な技法を受け継いでいて、その種類は何百と言われるほど。
M.HIRAMATASUでは、いくつかの異なる地方のアトリエと直接やり取りをし、それぞれの技法を活かした刺繍を依頼・制作しています。「SHISHU Atelier」では、彼らの手から生み出されるアートをアトリエとともに紹介していきます。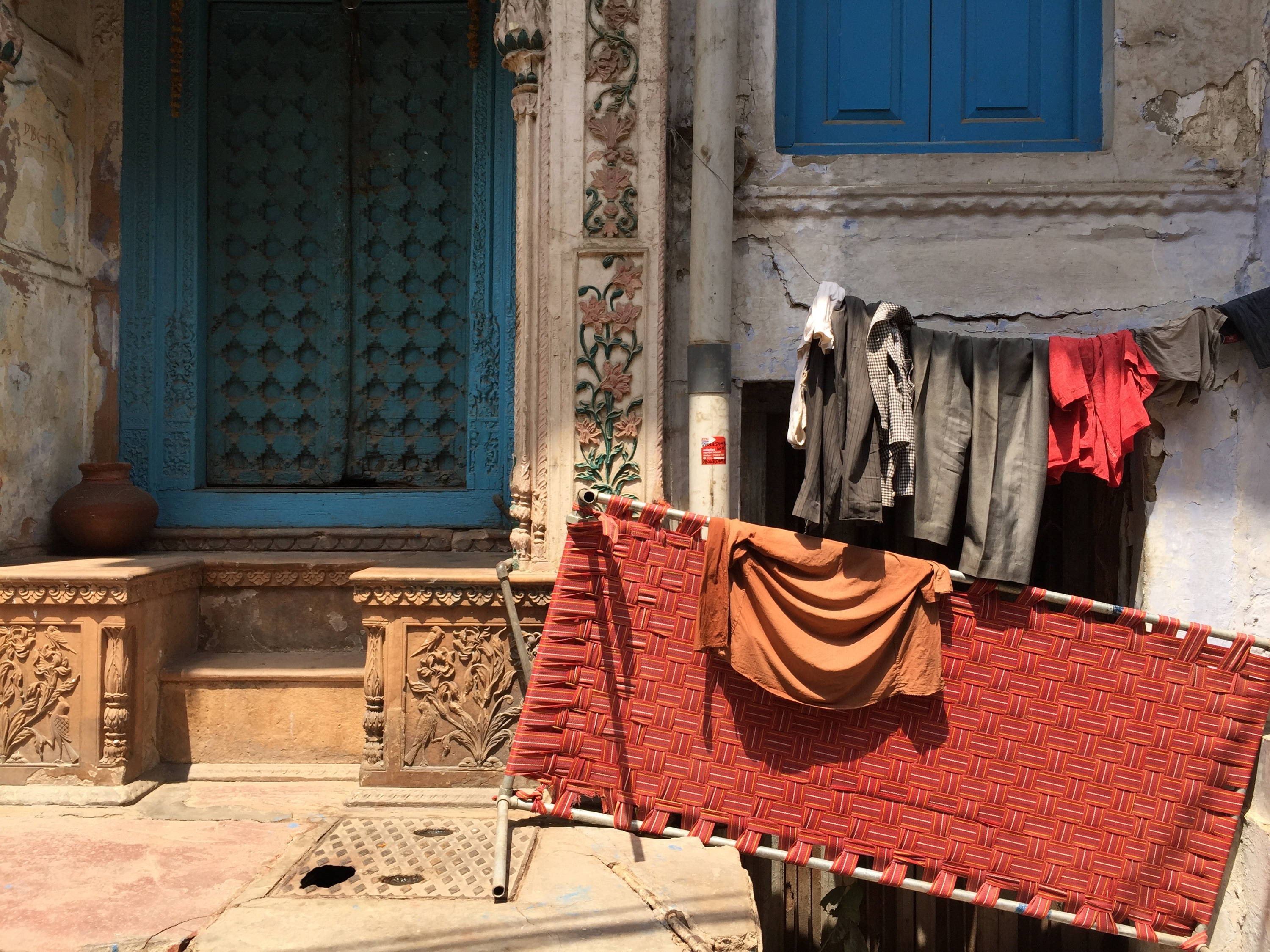 Location: Chandni Chowk, INDIA

Studio Name: Md. Gulzar
Our first journal will be dedicated to the embroidery studio located at the heart of Old Delhi, Chandni Chowk.
This is one of the oldest and the busiest market in Delhi, where many wholesale stores are lining up next to each other with no space in between. You can find from spices to jewellery to antique furnitures to pretty much anything you can imagine.
In the deepest part of Chandni Chowk, you find the embroidery studio "Md. Gulzar".
The studio was established in the year of 1930 by the grandfather of Mohd Gulzar Ansari, who is now the current owner of the studio. Through generations, the embroidery studio remained family run business, where Gulzar works as an artisans himself along with his brothers and sisters and their relatives.
Their curiosity and eagerness to take on a challenge, resulted in a beautiful outcome where we were able to achieve designs which goes beyond the traditional embroidery designs found in India.
オールドデリーの中心地、
チャンドニー チョーク。
ここは昔ながらのデリーの伝統が保護された地域で、スパイスやジュエリー、アンティーク家具や伝統衣装のサリーなど、様々なお店が並ぶバザールが有名です。
いつもたくさんの人で賑わい活気に溢れています。
この地にアトリエを構えるのは、"Md. Gulzar"。
1930年に刺繍工房を設立し、現在は創設者の孫にあたるMohd Gulzar Ansari氏が運営をしています。
およそ90年に渡り代々アトリエを守り続けてきた彼らは、今も身内のみで刺繍制作を行い、
Gulzar氏の兄弟皆が職人として働いてます。
彼らは好奇心旺盛で、新しいチャレンジに対してもとても前向きです。
私たちの試みに熱心に耳を傾けてくれ、
今まで彼らが挑戦したことのないようなデザインにも誠実に取り組んでくれます。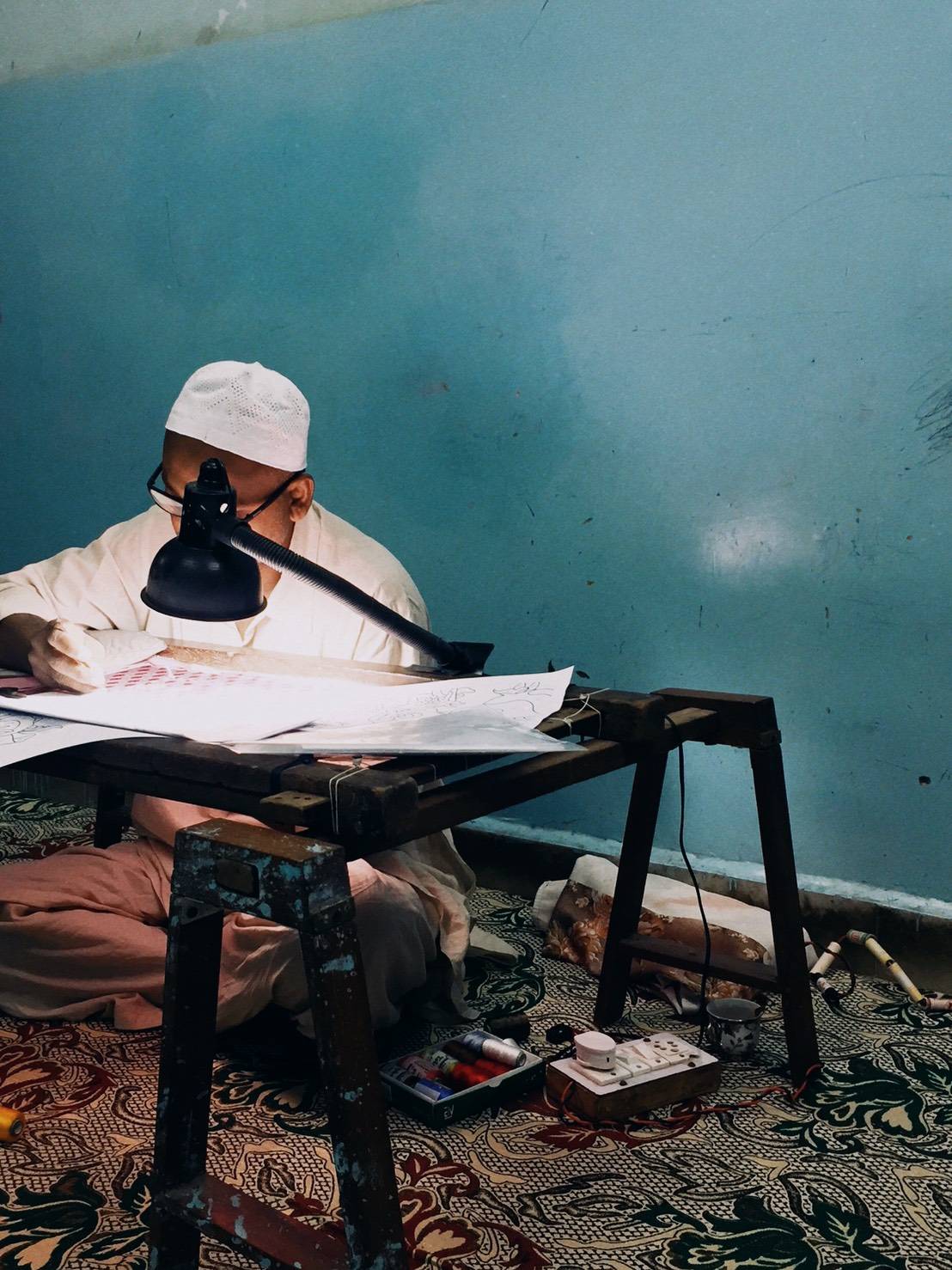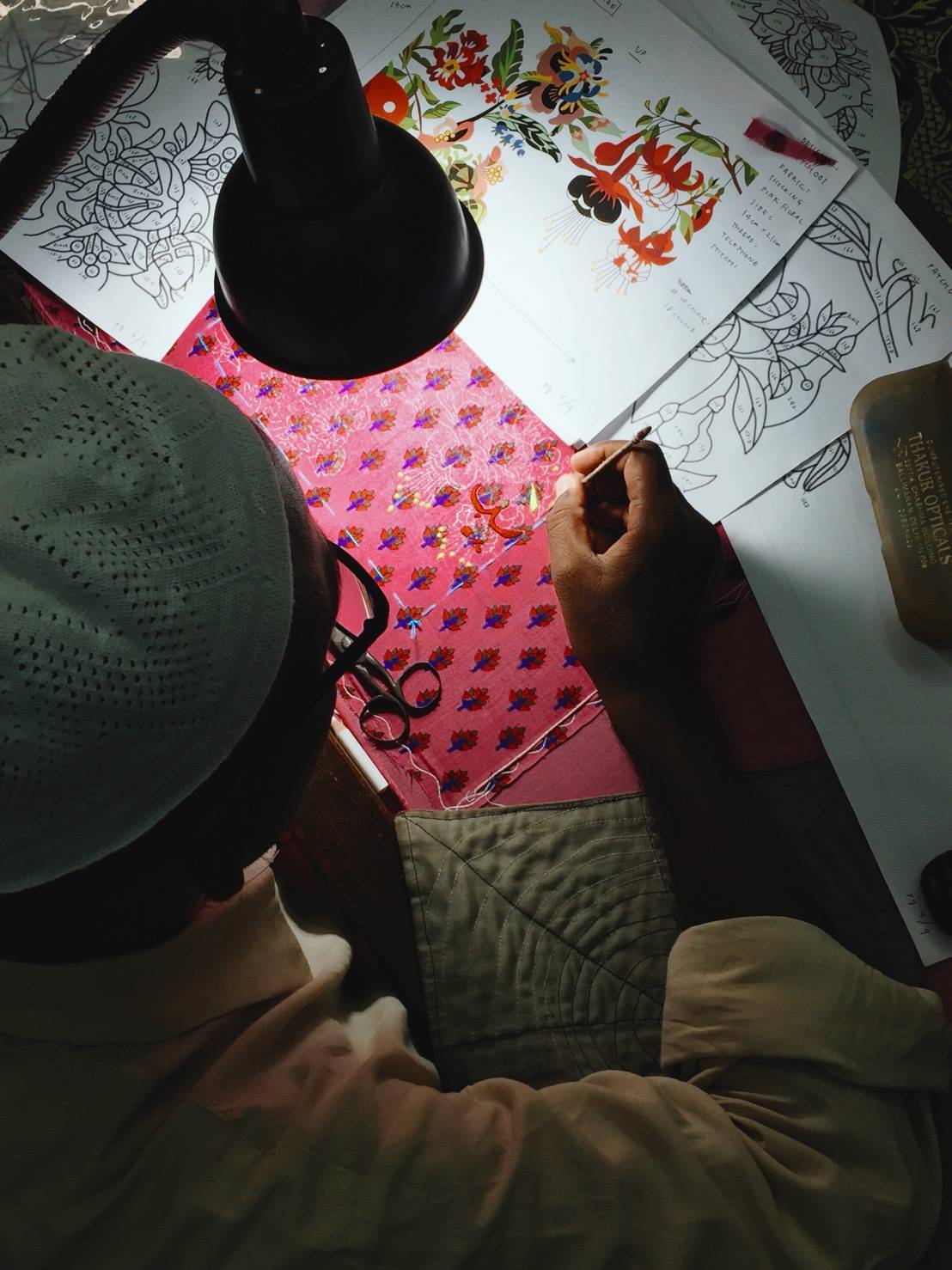 At M.HIRAMATSU, we have decided to implement Lode stitch technique and Aari stitch technique using sequins,
when creating our designs with Gulzar as these are the signature styles used in their studio.

Lode embroidery is a technique that fills the surface by passing threads evenly in one direction. By doing so, it creates a gentle sheer on the embroidery work, and gives a powerful effect where the fabric looks like it has been painted.
This beautiful technique can illustrate even the smallest details, thus playing an important role in expressing the unique designs and colours created by M.HIRAMATSU.
工房では様々な刺繍を制作していますが、M.HIRAMATSUでは彼らが得意とするロード刺繍 (Lode Stitch)と
スパンコールを使用した刺繍を主に依頼しています。
ロード刺繍は糸を一方向に均一に通して
面を埋めていく技法です。
色を塗ったような力強い色彩と、
表面に優しい光沢を生み出します。
デザインの細部まで美しく描き出すその技術は、M.HIRAMATSUの色彩の表現にとても重要な役割を担っています。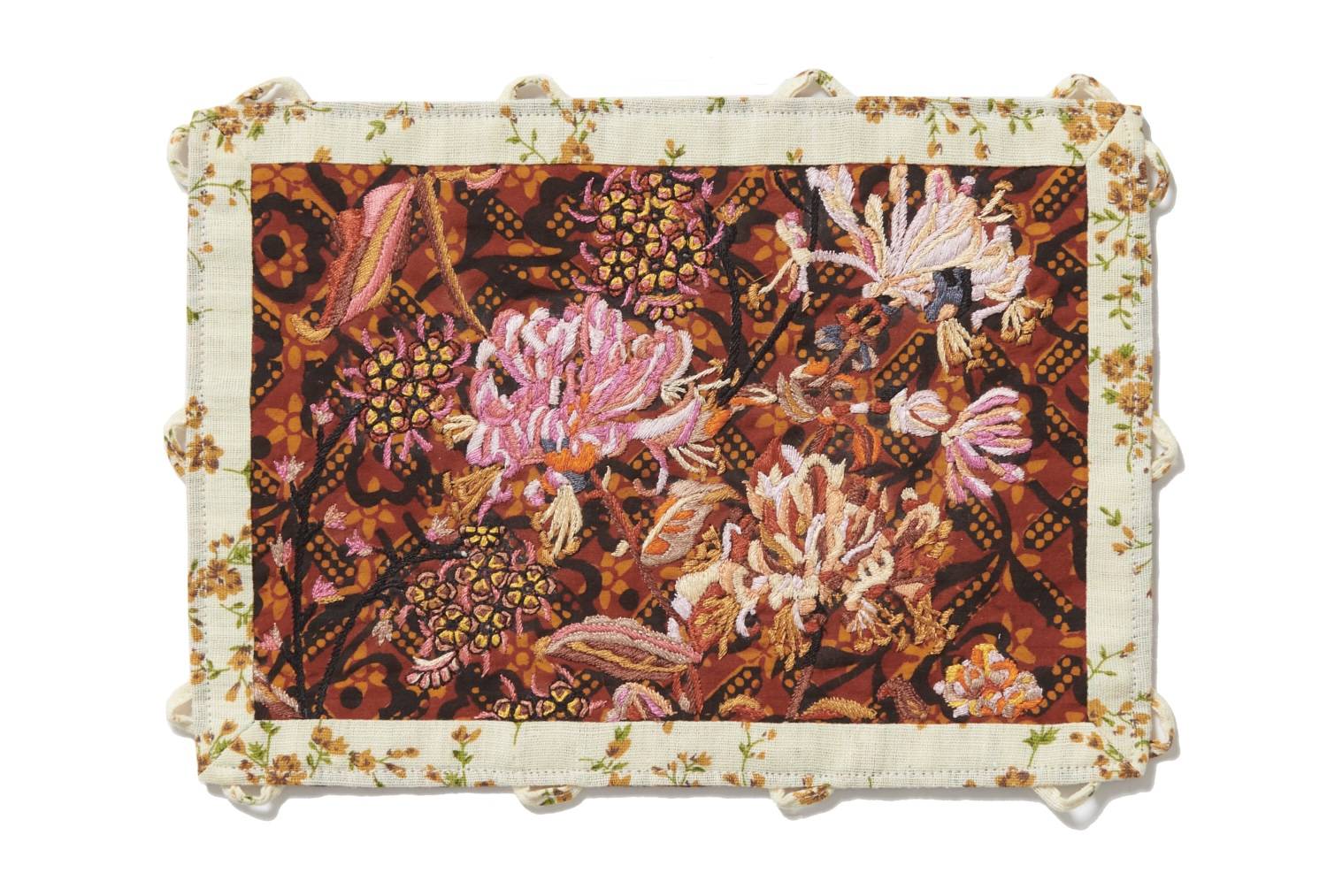 By working with the studios for several years, Md. Gulzar has become one of the studio where we can trust and relay on, to deliver pieces that we cannot wait to showcase to everyone through our brand.
For the beautiful pieces that Md. Gulzar created, please check out our SHISHU page on our website.
様々なデザインを依頼するなか、今では仕事を通じてお互いの感覚を掴めるようになり、
私たちにとってとても信頼できるアトリエの一つとなっています。
Md. Gulzarが制作した作品はSHISHUページから
ご覧になれます。
! HAPPY SUNDAY EVERYONE !
CONTACT:
info@mhiramatsu.com
Discover our new releases